Why I LOVE Art Prints And You Should Too!
Art reduces stress and increases your quality of life. Can you afford to NOT have art on your walls?
Did you know you can see your art on the wall before you buy it? That you can choose your size, play with framing options, and have it delivered ready to hang? Yup. It's true.
I am a professional oil painter who graduated with a Bachelor of Fine Arts in Drawing, Painting and Sculpting in 2003 from the Nova Scotia College of Art and Design. I am writing this based on my personal experience with the types of prints I offer of my own oil paintings. If you have any questions don't hold back! I'm happy to help.
Ultimately it is all about choice. When we buy an original, too often the art comes first and then we think about where it will hang. The magic of prints is that they are designed specifically to achieve what you want to do with the space you have. Modern digital prints are amazingly high quality and while you can't feel the texture on print, it certainly looks like you can!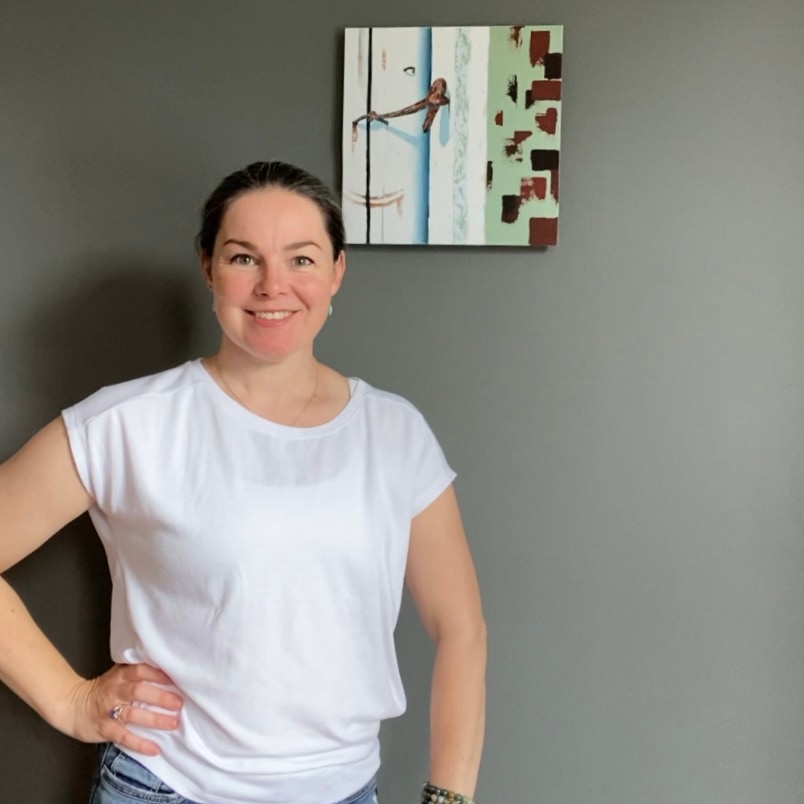 paper print with gator board backing
Who's kidding who? Money matters. But don't let the limits of your budget limit the quality of your living space! If cost is a concern buy that paper print, hang it, and breathe easy. The whole point of digital reproductions is to make art accessible for everyone. Fine art prints make your dream of displaying statement pieces a reality. Paper, wood, canvas, metal, acrylic, and xpozer prints are all great options.
Type of print choice is where the fun begins. Acrylic and metal prints command attention in any room and accentuate a contemporary style. Paper mounted on gator foam and xopzer prints also achieve a clean look. Canvas prints offer a traditional art feel. If you are after a sense of rustic charm, opt for a wood print. When it comes to framing the options are endless. I know that I only offer a few choices on my website just to keep it from becoming overwhelming, so never hesitate to ask the artist if you want something you don't see.
Where you intend to hang your new print is an important factor when deciding what type of print you will choose. Entrances, public spaces, kitchens and bathrooms all come with their own unique set of considerations. If you are hanging in a kitchen or bathroom, consider that metal prints can be wiped off with a damp cloth. If it's a high traffic or public space, a sturdy construction of wood, metal or acrylic are best for durability. No one wants that sickening silence as your cherished art piece falls to the floor when a guest accidentally bumps it off the wall.
Sizing options are a print's best selling point. I have seen very small paintings printed in large dimensions to suit the room. Alternatively, I have seen large paintings printed smaller to hang as a set. This choice of size is where prints shine above original art. Every wall is unique so when buying a print you can get a custom size to suit your criteria. Why compromise?
If you are not familiar with it already, please know that Live Preview AR ( Augmented Reality) is your secret weapon when buying prints. This little gem of a feature allows you to SEE what the art will look like on YOUR wall BEFORE you buy it. That's right, you can see how it will look with a variety of frames, a size smaller, or if the colors work with your rug. You can keep trying different options till you find the one you love. All you need to do is allow the feature to access your camera and stand 10 feet from the wall where you want your art to hang to get an accurate representation.
"Babe, let's see if that frame looks better with the couch color."
Fine art prints enable you to do your wall your way! Let the art inspire you and have some fun. Click here to take Live Preview AR for a test run so you know how it works and then look for artists who offer this feature. Remember, it doesn't need to empty your wallet to look good and increase your quality of life. It just needs to be on your wall!
Ellen Sears
KES art | Let art influence the energy in your life :)
PRO TIP
Buy it ready to hang! Too often the framing expense far outweigh the piece of art itself, often doubling the cost. Keep this in mind and when you are on the website, check out the options to have it come ready to hang (hardware included!). It will save hassle and money in the long run and make your experience better overall.